VICTOR Walikota Surabaya Cup 2013 - Final Result
The badminton game at Surabaya, May 13th 2013 – VICTOR Walikota Surabaya Cup 2013 was held at Sudirman Sport Center Surabaya, which has bid goodbye to its spectators on Thursday, May 9th 2013 .The Korea players showed their superiority by bringing home Surabaya Mayor's overall champions cup on its 4th consecutive year, winning 6 gold medal and 6th silver medal.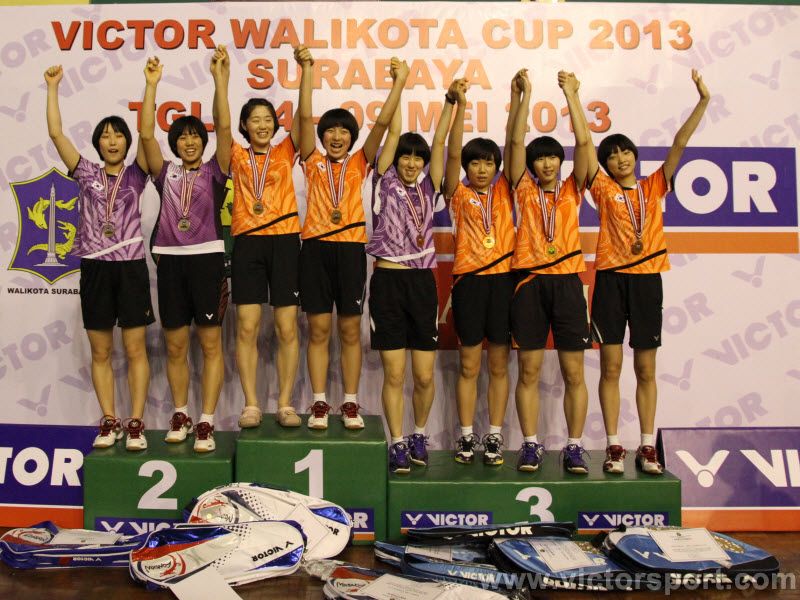 The girl double winner of VICTOR Walikota Surabaya Cup 2013
Indonesia-East Java Badminton Association Chairman, Abdul Qodir reckoned that the yearly tournament is held to seek for highly qualified badminton athletes from juniors to veterans. Though it was just a mayor's cup, but the participants have come from many places in Indonesia and abroad. "This is a huge competition, the players comes from 8 countries, such as Indonesia, Korea, Malaysia, Singapore, India, Guatemala, China and Japan." said Qodir.
This 1400+ contestant's event has offered 22 gold medals from 22 match category, starting from under 13 years old juniors' tournament to veterans.
Tournament result as follow:
Event
Position
Name
Club
Girl Single-Under 13
Champion
Silvia Ratih
EXIST
Runner Up
Titifani
BINA PRESTASI
Boy Single-Under 13
Champion
Fathkul Rozzi
EXIST
Runner Up
M. Rezky Alvarez
SEMEN GRESIK
Girl Single-Under 15
Champion
Yeo Jia Min
Singapore badminton association
Runner Up
Gabriela Moningka
EXIST
Boy Single-Under 15
Champion
Nur Yahya Adi V
PRATAMA
Runner Up
Bagas Kristianto N
DJARUM KUDUS
Girl Single-Under 17
Champion
Nidaira Natsuki
TOMIOKA BADMINTON TEAM
Runner Up
Ko Bo Hyun
BKA-KOREA
Boy Single-Under 17
Champion
Soh Wooi Yik
Badminton association MALAYSIA
Runner Up
Lee Jun Su
BKA-KOREA
Girl Single-Under 19
Champion
Kim Na Young
BKA-KOREA
Runner Up
Jun Joo I
BKA-KOREA
Boy Single-Under 19
Champion
Kobayashi Yugo
TOMIOKA BADMINTON TEAM
Runner Up
Heo Kwang Hee
BKA-KOREA
Girls Double-Under 15
Champion
Nagai Sebun
Yura Nagisa
TOMIOKA BADMINTON TEAM
Runner Up
Crystal Wong
Lim Ming Hui
Singapore badminton association
Boys Double-Under 15
Champion
Dicky Cahya Y
Rifki Nur A
DJARUM KUDUS
Runner Up
Rangga Kiswara J
Rizky Adam
CANDRA WIJAYA
Girls Double- Under 17
Champion
Kim Ga Eun
Kim Hye Jeong
BKA-KOREA
Runner Up
Apriani Rahayu
Jauza Fadhila S
PELATPROV DKI JAKARTA
Boys Double-Under 17
Champion
Park Hyun Hoon
Seo Sung Jae
BKA-KOREA
Runner Up
Mitshuhashi kenya
Watanabe Yuta
TOMIOKA BADMINTON TEAM
Mix Double-Under 17
Champion
Seo Sung Jae
kim Hye Jeong
BKA-KOREA
Runner Up
Watanabe Yuta
Hamakita Momo
TOMIOKA BADMINTON TEAM
Girls Double- Under 19
Champion
Kim Hye Rin
Kong Hee Yong
BKA-KOREA
Runner Up
Jun Joo I
Lee Boon
BKA-KOREA
Boys Double-Under 19
Champion
Heo Kwang Hee
Jeon Hyuk Jin
BKA-KOREA
Runner Up
Krisnha Adi N
Richard Kuncoro
JAYARAYA SURYANAGA
Mix Double-Under 19
Champion
Achmad Fasich
Tays Rona
CITRA RAYA UNESA
Runner Up
Kim KI Hoon
Kim Hye Rin
BKA-KOREA
Men's singles
Champion
Adi Pratama
JAYARAYA
Runner Up
Febryan Irvannaldi
HIQUA WIMA
Women's Single
Champion
Ganis Nur Ramadhani
PERTAMINA INDONESIA
Runner Up
Sylvina Kurniawan
DJARUM KUDUS
Men's Doubles
Champion
Ade Yusuf
Wahyu Nayaka
PELATNAS
Runner Up
Hardianto
Kevin Sanjaya S
PELATNAS
Women's Doubles
Champion
Melati Daeva O
Rosyita Eka P. S
PELATNAS
Runner Up
Imma Mutiah K
Shela Devi A
PELATNAS
Mixed Doubles
Champion
Trikus Harjanto
Nadya Melati
PERTAMINA INDONESIA
Runner Up
Hafiz Faizal
Shela Devi A
PELATNAS
Men's Doubles-Veteran
Champion
Bobby Ertanto
Mintarno
ERKA JAKARTA
Runner Up
Hermawan Susanto
Vinur
SARWENDAH